Modern Day Jessica Rabbit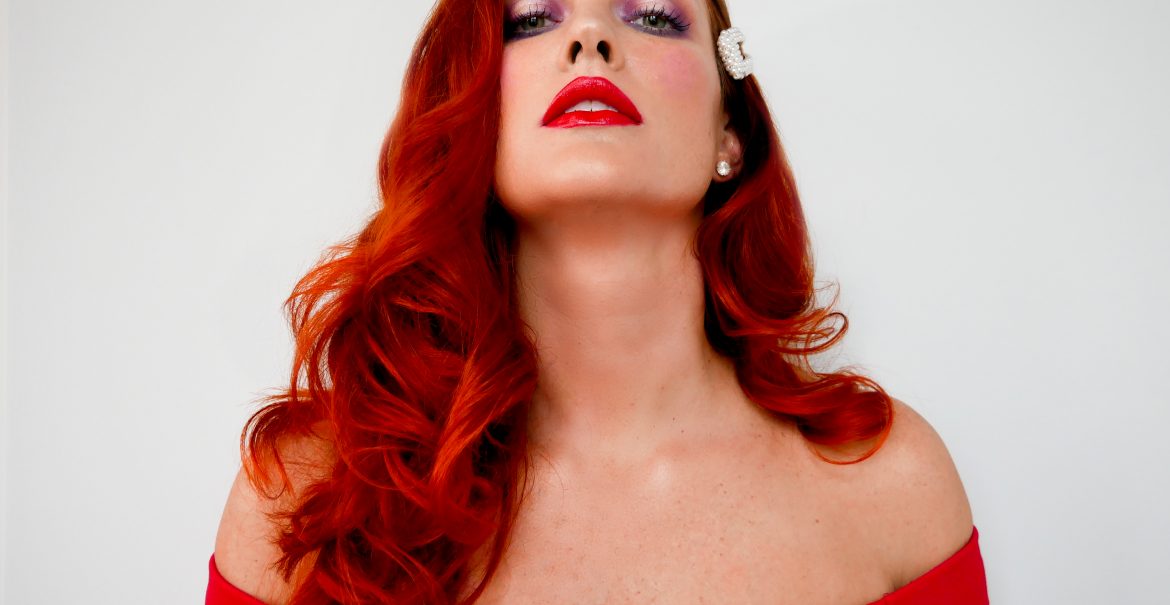 "I'm not BAD. I'm just drawn that way!" – Jessica Rabbit.
Valentine's Day is almost here and we wanted to provide you with a look we felt was alluring, yet easy to recreate. Myself (Erica Ages) and Corie Britt, have always loved Jessica Rabbit and felt she was a classic betty, so we wanted to transform the vivacious cartoon into a Modern Day Vixen.
To start, we first went back to the film, "Who Framed Roger Rabbit", to see exactly how she was presented in reference to her makeup and hair. We noticed a few things in her makeup: she did not have a prominent highlight/contour on the face, as heavily popularized today; and her statement features were her defined eye shape, her highly drawn brows, and her bold red lip. Jessica Rabbit's hair was perfectly rounded, smoothed locks – featuring a deep side part. We immediately knew who we wanted our model to be, our friend Kristen Mitchell, because she's already naturally gorgeous and has a vibrant red head of hair. Now – how to do a modern twist on the classic beauty?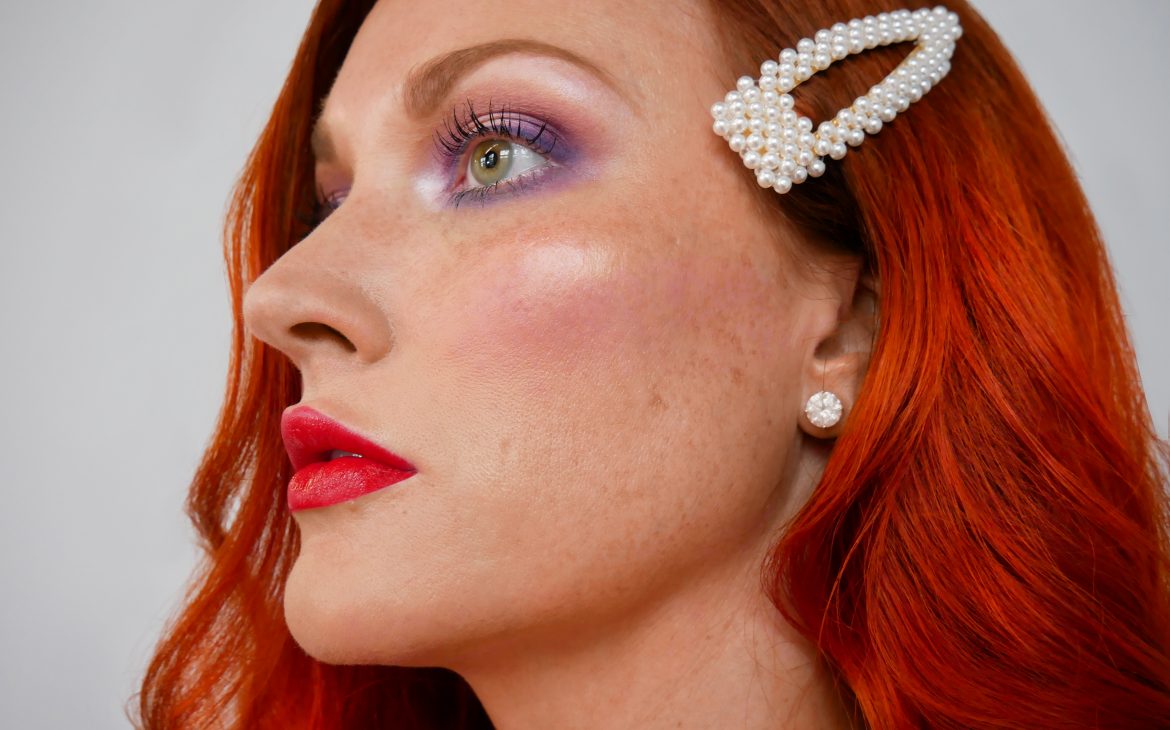 For Makeup: I (Erica) prepped our model's skin with Embryolisse and topped it with a thin layer of Graftobian foundation. It was important to me to keep that beautiful, half-moon shape and classic red lip on our model. To modernize it, and keep it wearable, I used a variety of shades in the purple and silver family to gradually diffuse them. Keeping the sultry dimension and smokey effect, I used the "halo" technique. I alternated between three brushes while working: 1) a fluffy crease brush to add a soft lilac to her crease for transition, 2) a smaller version of that brush to slowly build deeper shades on the outer and inner corners of her eyes, 3) an angled, detailed brush to smudge her liner on top and bottom. The goal was to keep everything fairly fluffy so the brushes were swept softly over the eyelid, refraining from using hard pressure on the eyes.
If recreating this look, make sure you tap your brush to release excess product before you touch your eyes. The more dense brushes were used on the darkest parts of the shadow and along the base of the lashes. There wasn't much blush on the original character, so I opted for a soft pink mixture from my Senna Cheeky Blush Palette (creams), that gave her a natural flush without competing with the other colors on her face. For the lip, I lined with our Vigilante Cosmetics brand lip liner in the shade "Maraschino" and topped it with our Vigilante Cosmetics brand lipstick, in the shade "Marilyn". I decided I liked her eye without false lashes – this way you could easily see the purple eye liner that was used. The eyeshadow palettes I picked to create this look were: Natasha Denona, Tropical Palette in the shades "vintage taupe" and "zena"; the Natasha Denona, Lila Palette in the shade "juneau"; plus the James Charles X Morphe Palette, in the shades "single" and "escape".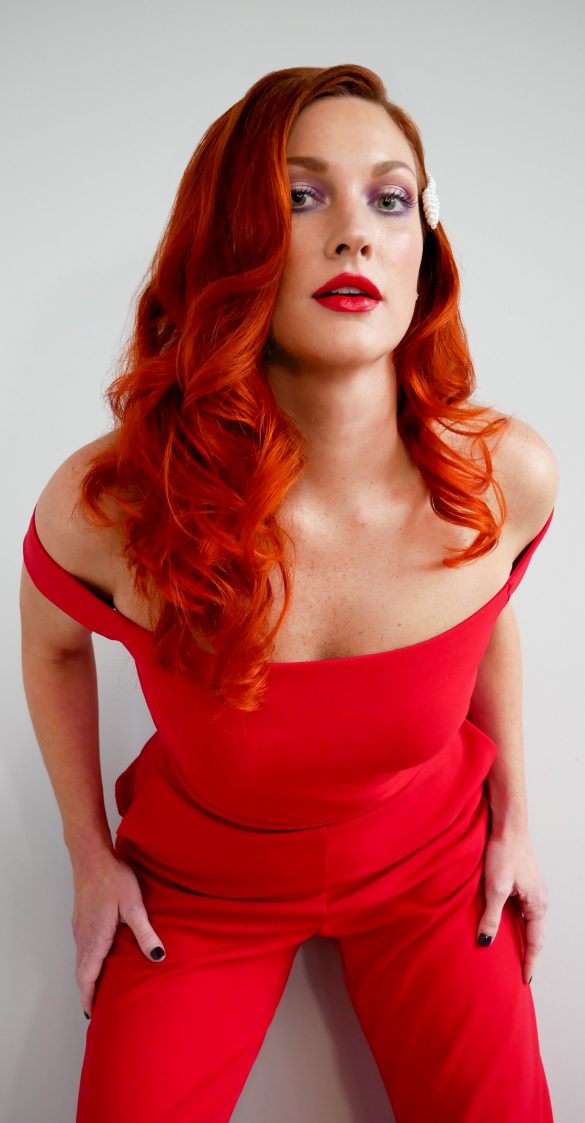 For Hair: Corie originally wanted to give Kristen a middle part but through the process decided we couldn't fall out of love with the deep part. Recently, we have noticed that hot rollers are starting to come back, so she wanted to use them to show you how effortless a "glamorous style" can really be. Corie started by sectioning the hair off all the way around Kristen's head and prepping her with heat protectant. She then started at the top of the hair and placed rollers in, curling the hair away from the face, and being sure to tuck the ends carefully into the roller. This is a critical step, because leaving the ends bent or straight will result in frayed ends once you take the rollers out. Once Corie got to the bottom of the hair, she was out of rollers, so she used an iron to press a curl into the hair and set it with velcro rollers to cool with the rest of the hair.
You can easily use these all over instead of the hot rollers if you choose – however, the velcro rollers can often snag if you aren't careful. Once the curls were cooled, she released them all and shook them out with Kristen's hair upside down. When she tossed them back to the upright position, Corie carefully re-positioned any out of place tendrils and softly tamed any frizz. We added the modern element of a jeweled hair accessory that you can find at almost any local boutique; this one was purchased at Target.
We would absolutely love to see you recreate our look or if you create your own Valentine's Day inspired look using any of these products + techniques. Tag us on our socials @VigilanteArtistry
AUTHOR: Erica Ages